---
AMERICA'S FAVORITE CHEESECAKES… A global brand dedicated to creating premium, indulgent cheesecakes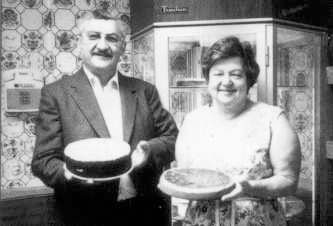 Always known as an excellent cook, Evelyn Overton created her Original Cheesecake recipe that everyone loved. By the late 1940's, she opened a small cheesecake shop in Detroit.
In order to raise her two small children, David and Renee, Evelyn chose to put off her dream and gave up the shop. In 1972, with their children grown, Evelyn and Oscar, now in their early 50's, decided to move their cheesecake business to Los Angeles. With the last of their savings, they opened a 700 square foot store, "The Cheesecake Factory".
Finding that Los Angeles loved their cheesecakes as much as Detroit did, their reputation and sales grew, creating a need for a larger bakery. In 1978, their son David founded The Cheesecake Factory restaurant in Beverly Hills, California. The restaurant was an immediate success! Just over 40 years later with more than 200 locations, the success of The Cheesecake Factory has even surpassed the Overtons' wildest dreams making The Cheesecake Factory a great American success story.
Our Cheesecakes featured below are smaller than the restaurant size, perfect for the family.